Zhongtuo Aluminum-Ene sheet/coil
Aluminum-Ene sheet/coil is a kind of new material which has the advantages of super anti-corrosion performance, heat insulation effect, long service life, sound insulation, energy saving and environmental protection, etc., making it a very cost-effective steel structure roof panel. Since the aluminene sheet was promoted in the market, it has also been widely praised by users.
It is composed of up to 8 layers of materials, and is processed through five high-temperature heat bonding processes and two high-strength anti-aging glue bonding processes.
Anti-aging transparent layer + aluminum foil + polymer film <<substrate>> + polymer film + foam layer + polymer film + aluminum foil + anti-corrosion layer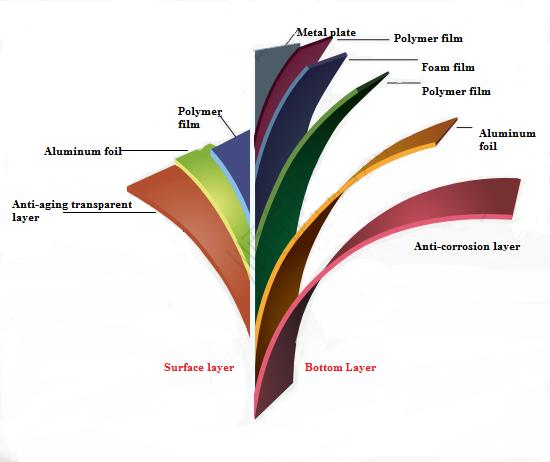 Product Basic Parameters
NO
Basic plate type
Galvanized sheet, aluminum sheet, stainless steel sheet, etc.
1
Plate thickness range
0.2 to 1.0mm
2
Coil width range
1000-1250mm
3
Coil surface pattern
Customize or optional
4
Color
Customize or optional
5
Alene film thickness
2/2.5/3.
Main parameters, performance, and selling points:
Mainly used for roof tiles of steel structure factories.
Suitable for corrosive workshops, melting and casting workshops, chemical plants, breeding plants, etc.
It is suitable for coastal areas and has strong weather resistance and seawater corrosion resistance.
It is suitable for areas with a lot of rain. The board has a good sound insulation effect, and there will be no excessive noise in the rain room.
Reflective insulation: 
Reflective heat insulation and barrier heat insulation work at the same time, greatly blocking the conduction of heat, and its heat insulation effect can meet the needs of most users.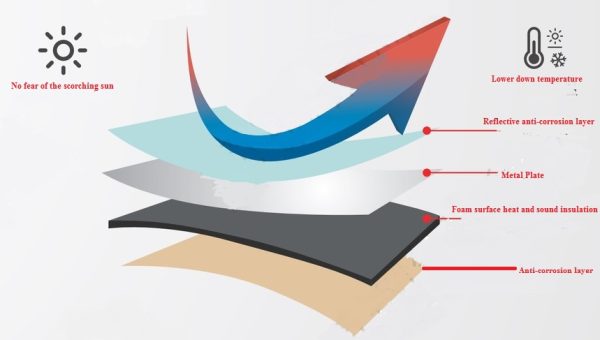 Anti-corrosion performance:
Both sides of the substrate are laminated by a polymer film through 200° high temperature pressing, and are completely fused on the surface of the substrate. Even in a strong acid and alkali environment, the substrate surface material can protect the substrate very well.
25% sulfuric acid immersion test: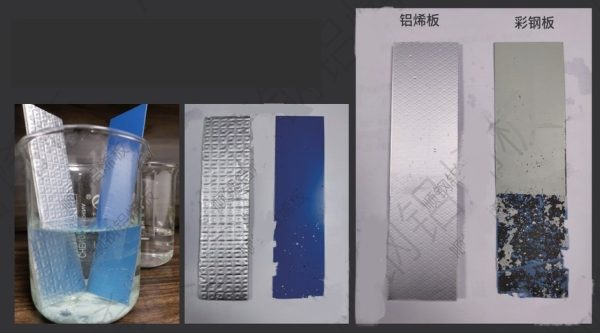 The two samples were placed in the same beaker and soaked for 36 hours at the same time.
Both sides of the aluminene board remain intact, and only a small part of the edge is corroded.
The soaked part of the color steel plate has been completely corroded and dissolved.
Save cost:
The transportation, storage, production, and installation of aluminene board are more convenient, and the volume is only 1/20 of 5 cm composite board.

Compared with the normal sandwich panel:

Composite board: There is a minimum order quantity, which must be booked in advance. Need to store a variety of raw materials, finished products occupy a large space, production and transportation costs are high, start-up and shutdown will cause loss, transportation is also prone to damage to goods.
Install the insulation layer on site: lay steel wire mesh first, then lay glass wool, and then install color steel tiles. The process flow is cumbersome and the installation time is long.
Where to use:
Purpose: Reconstruction of photovoltaic roof of environmental protection workshop
Demand point: anti-corrosion, heat insulation