PVC Film Steel Laminator Laminating Machine
Production Description: 
This machine is suitable for composite of color steel coil with PET color aluminum film, pure aluminum film, PVDF, ASA, PVC film (plastic steel roofing tile), stainless steel with color film (home appliances, door plate). Humanized design, advanced technology, this machine with cantilever winding, lifting sports car, alignment device, winding high precision alignment device, save both time and labour.
Super long material storage rack, realize rewinding without stopping. High-power seam welding machine, shear machine, alkali washing tank, clean water tank. It caused rapid aging of products because of  large heat loss and poor thermal stability of oven. This machine adopts no oven heating which low heat loss, strong stability, fast production speed, reliable fastness. The whole production line of this machine is automatic constant tension, saving manpower and time. Double-side film-lamination at the same time , single – sided embossing, concave embossing are all available.
Main Technical:
Model
ZTRFM-H01
Basic Material Thickness
0.18~0.5mm
Specification
L18~20m * W6.3m * H3.4m
Input Power
380V-250KW~150KW
Vehicle Speed
0-60 m/min
Equipment table size
≤1300mm(Coil Width:500~1150mm)
 
Vertical Laminating
Hot Melt Laminating Machine
Product process
Adopt plastic film(PET,PVC,PVDF,ASA) combined with metal plate through hot melting,  which has solved the corrosivity of metal plate and metal container, both has the decorating, barrier of plastic film and the malleability, figurability of metal sheet.
Metal plate: galvanized sheet, Stainless Steel sheet,Cold Rolled Sheet,Aluminum Sheet.
Plastic film:PET, PVC,PVCF,ASA etc.
Film color:RAL Color/Pantone Color;Wood Grain,Marble Grain,Brick Grain,Stone Grain,Flower Pattern,Brushed,Embossed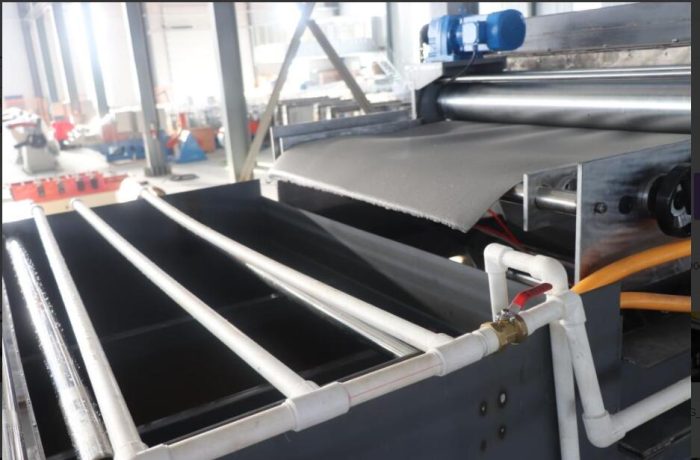 Advantages of Steel Laminator Laminating Machine ​:
1,Increase security:The film is directly applied to the metal surface and no longer use various solvents to solve the problems of bisphenol A.
2,Excellent processing performance:Processing resistance, abrasion resistance, not easily be damaged during processing.
3,High chemical resistance:Ageing resistant , corrosion resistant, can adapt to the harsh environment without shedding and rusting.
4,Green,energy-saving and pro-environment:Simplify the drying and fixing process,greatly reduce the energy consumption and CO2 emissions
5,Saving costs during canning process:Remove the inner coating and base coating, simplify the canning process, save costs.
Our Service:
Pre-Sales Service
* Inquiry and consulting support.
* Sample testing support.
* View our Factory.
After-Sales Service
* Training how to install the machine, training how to use the machine.
* Engineers available to service machinery overseas.
Our laminated product:
Surface is shinning, smooth and good touching, well decorated
anti-wearing, anti rust strong chemical stability, anti-corrosion
well formed, can be deep formed,less sticky to ink
so comparing to the traditional printing technology, this makes the container more stable and better decorated.
We can develop and customize the laminating machine according to your package design and requirements,high speed and quality steady.If you have any requirements or need more details,please feel free to contact with us.